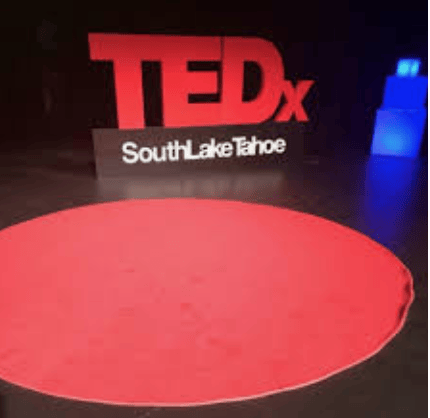 Twenty years ago, I left my home in Southern California moving far away from everything I knew: my family, my medical team, the comfortable safe environment that I had mastered my independence in, and I even left Marty (which was the hardest part) to find my true self and to forge the roots of my will.
Living in Lake Tahoe, CA is where I mastered the craft of being a waitress in a wheelchair after receiving global notoriety for it in Southern California as a teenager. It is the place I started my educational journey enrolling into Lake Tahoe Community College. When I moved there, I was a young insecure woman full of so many doubts of what was possible for me, but it is also where I grew into a strong powerful woman through my life experiences and navigating the environment of the lake.
I would hike difficult trails sometimes having to jump out of my wheelchair to crawl over tree trunks blocking the path and then pulling my chair over and continuing on. I would ski down snowy mountains and kayak the many lakes.
And, OH that snow! Wow did we have an up-close and personal relationship. The snow forced me, it challenged me, to be stronger than ever. Shoveling snow was not an easy task for me.
I would end late shifts at work, after a snow, making my way to my car, and I would then literally climb on top of the hood of my car to scrape the ice off my windshield. Sometimes I would arrive home and the snow was so deep I could not get to my front door with my wheelchair. So, I would leave my wheelchair in my car and crawl from my car to the front door in the snow. I cannot believe I did some of this looking back!
Lake Tahoe Community College was also the first place I was ever invited to speak. It was during disability awareness week, way before speaking was on my radar, and now, the lake and the college are gifting me another massive opportunity of growth, speaking on the TEDx stage for my first time! One week from today it's go time!
Sitting this morning in reflection of the many powerful gifts this lake has offered me over my lifetime, I'm grateful. I've realized that for me to accomplish all of these things I've had to be willing to push my fear aside and boldly venture forward to where I need to be.
I'm ready for you big red dot.