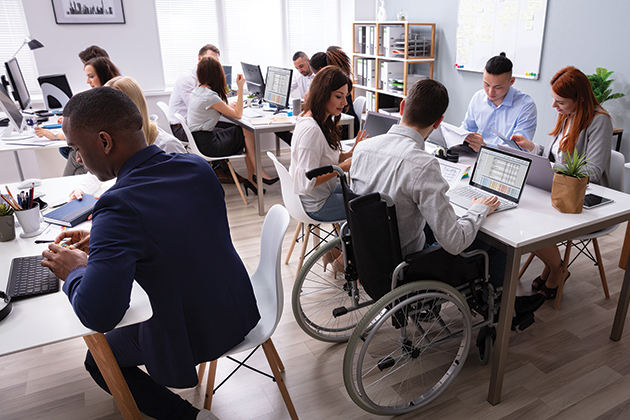 July is Disability Pride Month
Many people may not know that July is Disability Pride Month, a commemorative celebration of the Americans with Disabilities Act being signed into law in 1990. That same year, Boston held the nation's first Disability Pride Day. Since then, there have been regular celebrations across the country, from Los Angeles and San Francisco to New York City.
Why is disability pride month important?
Yet, like disability itself, Disability Pride Month remains largely overlooked. The boisterous celebrations that most of us associate with other events like LGBTQ+ Pride are still at odds with common conceptions of disabilities. Many people still think that disabilities are something to be ashamed of—imperfections to be hidden unless or until they can be fixed.
That could not be further from the truth. Disability can be an empowering part of identity, and July offers an opportunity to acknowledge it as a typical part of the human experience by stripping away the layers of invisibility that ableism places on the disabled community.
Despite pervasive diversity, equity and inclusion efforts, disability invisibility remains particularly persistent in the workplace. This is exacerbated by low rates of full-time employment among people with disabilities. According to a U.S. Bureau of Labor Statistics report, 21.3% of persons with a disability were employed in 2022. While that is the highest employment rate to date for people with disabilities, it still pales in comparison to the 65.4% of people without a disability who are employed full-time.
The good news is that we can do much better.
The benefits of doing so touch many aspects of business, including risk management. Ignoring DEI and other issues that fall under the environmental, social and governance (ESG) umbrella puts companies at risk of everything from reputation damage to customer and cultural blow-back that can significantly damage a company's value. Further, as the ADA protects individuals with disabilities from a range of forms of job discrimination, ignoring the needs of this pool of qualified workers puts businesses at risk of noncompliance and subsequent enforcement action from the Equal Employment Opportunities Commission.
Disability Pride Month is an excellent opportunity for businesses to reevaluate their DEI efforts to make sure that disability is explicitly included, rather than unintentionally excluded, and reduce risk in the process. Many executive and DEI leaders find taking the first step toward disability inclusion to be daunting, but it does not have to be.
Here are eight ways to begin including disability in DEI efforts from Risk Magazine
1. Understand that not everyone identifies with their disability.
My disability is a defining characteristic of who I am. It has led to the fulfilling career I have. I have chosen to leverage my disability as an empowering piece of my identity. But not everyone feels the same. Everyone's disability is different and everyone responds to their disability differently. Some people love the chance to be loud and proud about it, while others prefer to focus on other elements of who they are. It is important to remember that people with disabilities are individuals and are as unique as members of any other diversity group.
2. Hire people with disabilities.
One of the best things a business can do to support people with disabilities is to hire them. People with disabilities have been faced with unique circumstances their entire lives and, as a result, have developed valuable creative problem-solving skills. Plus, targeting the often overlooked community of people with disabilities means a larger, potentially untapped talent pool to draw from.
3. Make accessibility a part of your company's philosophy in every aspect.
Do not just limit accessibility to putting questions in the chat box during a virtual interview. Accessibility should be a part of your company's philosophy from end to end. From visual or hearing impairments to physical or non-apparent disabilities, disabilities are unique and multifaceted. As a result, there is not a one-size-fits-all solution for integrating accessibility into your business. Make the most of resources that are already out there. For example, companies like Microsoft have entire suites of adaptive accessories to make the work of disability inclusion easier.
4. Put people with disabilities in leadership roles.
One concrete way to step up your company's disability inclusion efforts is to not only hire people with disabilities, but to promote them into positions of power. This means putting people with disabilities in leadership roles. When people with disabilities are at decision-making tables, it is much harder for accessibility to be an afterthought.
5. Go beyond compliance.
The Americans with Disabilities Act is not an aspirational bar to meet—it is the bare minimum. Once you have met all of the requirements laid out in the law, consider hiring a person with a disability to consult on the efficacy of your efforts. For example, you may have put grab bars in, but are they in the right place? Do the new wider doors you installed actually open correctly without creating additional barriers? Are the accessibility updates you have made to your website working? These user experience findings can really only come out in practice.
6. Create disability employee resource groups.
You might already have employee resource groups for different cultures, gender identities and belief systems, but what about one (or more) for people with disabilities? You may think you do not have any employees with disabilities, but chances are you do and you just are not aware of it. Do not leave it up to a brave employee to step up and start the group. Be an ally. Launch a group and welcome anyone with any kind of disability to join, perhaps even extending the invitation to those with family members and loved ones with disabilities as well.
7. Encourage learning.
All marginalized groups suffer from a lack of understanding, and the disability community is no different. One low-barrier way to be sure that you are including disability in your DEI efforts is to encourage everyone in the company to learn more about disability and ableism. Whether conscious or unconscious, ableism frequently goes unchecked and can be extremely pervasive. If your company has a book club or reading list, select books about disability or from disabled authors. Invite guest speakers, hold lunch and learns, and otherwise provide opportunities for your workforce to be informed by disability experts.
8. Know that progress is more important than perfection.
It can feel daunting to start an inclusivity transformation, but it does not have to be. Simply getting started and making progress are more important than perfection. Audit your DEI efforts to figure out where you can improve. Use inclusive photos and other imagery on your website and other marketing collateral. Even a small step in the right direction is better than nothing at all. Inclusivity is always going to be a process—the work is never truly done.
The best part of Disability Pride Month is that it is not just about people with disabilities. At its core, the disability rights movement is about valuing all people for who they are and to believe in possible for everyone. Disability Pride is for all of us—an opportunity to celebrate and recognize every form of the human experience and the common ground that unites us rather than what divides us.