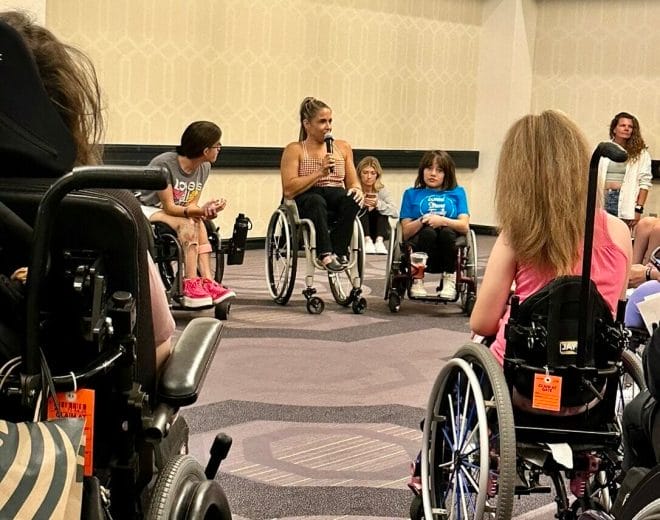 Last week I gathered with hundreds of women with disabilities at the Rollettes Experience to celebrate the spirit of our collective powerful womeness.
It was a total honor to be invited as a panelist as a "2023 Game Changer" alongside Andrea Dalzell, the first woman wheelchair user to become a registered nurse (RN) in New York City and Mary Zendejas Councilwoman of the 1st district of Long Beach, and moderator Steph Aiello, a member of the Rollettes.
We discussed topics like:
growing our careers as women with disabilities,
sharing some of the challenges we faced professionally in our paths,
how we turned those obstacles into opportunities,
what it means to be game-changers and
how do we move the needle forward together.
Likely even more important was my opportunity to speak in a private solo session to the teenage girls and young women who attended in a day two breakout. All parents and non-essentials were asked to leave as we privately spoke about the nuances of our lives growing up with disabilities.
This wonderful opportunity to discuss and share my experiences of growing up with a disability, and getting to answer the questions from these young ladies on what they were facing in their own lives! This was truly a voyage to sisterhood, community, empowerment, breaking down barriers and redefining what it means to live powerful lives as Disabled women.
YES, we absolutely live in a world that sometimes underestimates our abilities, but we have proven time and again that our disabilities are not the things that limit us but are actually the things that empower and enrich our lives in so many ways.
Empowerment begins with embracing our unique selves in the way we are, today in this very moment. It embraces our bodies, and our minds. And in this we challenge the stereotypes that confine us, proving that we can reach the stars in any field, be it arts, sciences, sports, leadership or even dance!
We are resilient and adaptable. We know that life's journey will absolutely present us with unexpected challenges, but with every obstacle is an opportunity for growth and triumph.
And in this we as Disabled women are redefining success on our terms, setting our goals high and daring to dream beyond what others may perceive as possible.
I'm so excited to be a part of this movement in my lifetime.