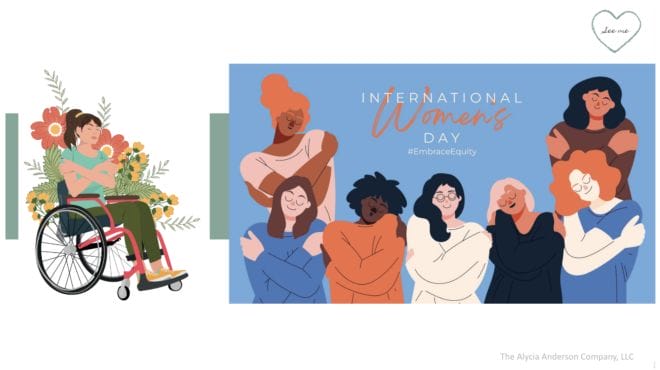 International Women's Day (IWD) is a day we celebrate and acknowledge the women's rights movement and highlight the inequities that still exist for women around the globe.
In honoring the efforts of all women from around the globe who have been pushing forward the movement, this year's theme is #EmbracingEquity.
Approximately 300 million women around the world have a disability, and these women constitute 75 percent of the population of disabled people in low and middle income countries. Worldwide women with disabilities comprise 10 percent of all of the women on our planet.
The World Bank has reported that every minute more than 30 women are seriously injured or disabled during work and that those 15-50 million women will generally go unnoticed.
All women and girls with disabilities experience double discrimination, which places them at a higher risk of gender-based violence, sexual abuse, neglect, maltreatment and exploitation. And this begs for the question, where do women with disabilities find their representation and acknowledgement in our society?
Even with good intentions and some more recent marketing efforts in the United States of long overdue products and services, women with disabilities because of ableism and sexism remain invisible among our mainstream avenues of advocacy, and this results in women with disabilities remaining marginalized, excluded and continually overlooked in our society, and can leave these women questioning to themselves:
Who am I?
What can I be?
Will I ever be good enough?
Who will love me?
Coupling these questions with all of the invisibility that comes from the many other layers of identity that make these women can be paralyzing far more than any disability they have, and these uncertainties stop us ALL on our pathway to full inclusion.
Equal opportunity is the law in the United States, and should be around the world as well. Even with this law in place here, we still are working on the equity piece of it, that truly leads to optimal outcomes of unity, and allows for greater success of inclusion.
Equity happens when each person has what they need individually to achieve a desired outcome, and in that, the individual contribution benefits the individual and the collective.
We need to meet people where they are and provide the best formula of #Access, #Tools and #Resources that enable each of us to reach that finish line of success together.